Tradition & Hospitality
HISTORY
At Waboomsrivier Winery tradition is honoured with true hospitality and wine of excellence.
The early settlers took the wood of the Waboom, closely related to the world renowned Protea-family (Protea Arborea), and build their wagon wheels with it.
The tree's bark was used as leather and even the leaves were used to produce ink. It was the name of this tree, indigenous to the surroundings, which gave birth to Waboomsrivier Winery.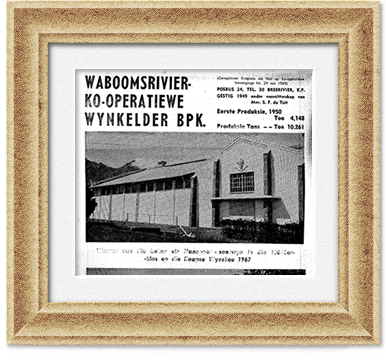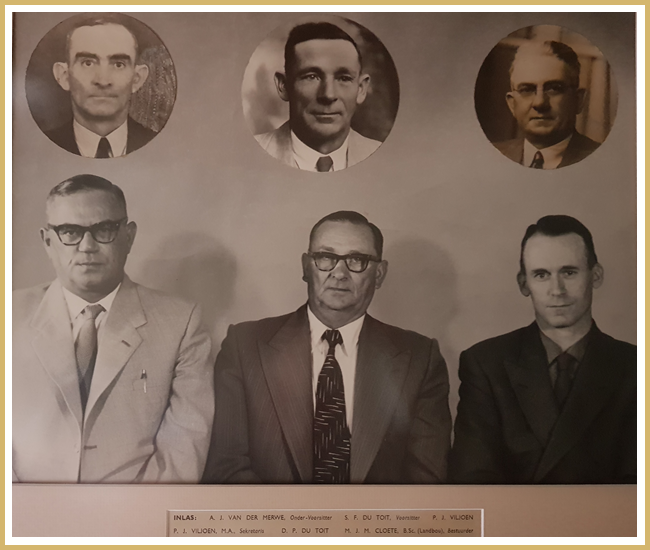 Many years ago the quaint little town, Breërivier, boasted a clinic, a post office, a police station and two cafés. The Breërivier station was a very busy place in the earlier days where farmers dropped off their produce or got on the train themselves. The station nowadays is quiet and deserted.
The grapes from this valley vary between sandy riverbeds to very rocky soils from high up in the mountains. Not only known for the delightful grapes, peaches and pears from this origin have gained quite a reputation at the fresh market. Prunes, apples, olives and persimmons are also grown in this fertile valley.
The first board of directors – as early as 1949 – included the wealth of knowledge from Mr AJ van der Merwe, SF du Toit, PJ Viljoen, DT du Toit and MJM Cloete.
---
Milestones
Late 1700's

The area consists of four quitrent farms - Aan de Bosjesmansvallei, De Breederivier, Slanghoek and Eendracht – where mixed agriculture takes place. As the community expands, the farms are subdivided. Besides livestock, grains and fruit trees, vineyards are also established of which the farmers make their own wines.

1949

Waboomsrivier Winery is founded by 16 farmers from the Breërivier area who all share a vision of producing high quality wines. No time is wasted in purchasing a portion of Kleinberg farm and commissioning the brothers De Kock to build a cellar – at a cost of R110 000.

1950

Winemaker Mynhardus Jacobus Marais Cloete receives a total of 4148 tons of grapes during the winery's first harvest. Initially money was scarce and electricity was deemed a luxury. The 22 members took turns to lend their tractors for powering the cellar machinery.

1954

Cloete is granted permission by the board of directors to procure wood, an automatic wine pump and other accessories for the cellar to achieve their goal of high quality wine production. Cloete was famous for experimenting, and his objective was to find a way to extract the cleanest juice possible from the grapes.

1956

Cloete designs his popular drainer made of wood. This plays a vital role in enhancing wine quality and results in a considerable saving on labour, not only at Waboomrivier Winery but throughout the industry. It became known as the Cloete drainer or seperator. Other inventons by Cloete includes a special tank for the fermenting of quality red wines and a quick fermenter for the fermentation of husks for distilling.

1969

The building of a new pressing cellar kicks of under Cloete's vigilant eye. Over time a quick fermenter and special fermenting tank for the production of quality red wines is added.

1970

Waboomsrivier Winery celebrates 21 years of existence with a soirée at Goudini Spa. During that year the cellar pressed 10 797 tons of grapes.

1977

An advertisement in Worcester Standard (the local newspaper) offers bottled wine for sale – a first for Waboomsrivier Winery.

1978

The board of directors gets permission from KWV to use the flower of the Wagenboom on the wine label. The protea logo used to be one of KWV's registered trademarks.

1979

The first wine maturation barrels come into use.

1998

Elevated red wine tanks, designed by Pera Pellenc, is introduced at the cellar.

2004

Revolutionary French Flash Denté technology is installed at Waboomsrivier Winery. In short, the grapes are treated with heat and then cooled off immediately by pressure reduction. It not only improves the quality of wine, but also enables the cellar team to adapt their wines to consumer requirements. The result is full round, fruity wines with beautiful colour.

2009

Modern GEA Sentrifuges is installed at Waboomsrivier Winery. It not only saves time and labour, but also minimises losses.

2010

Due to changes in South African legislation, the old cooperative system at Waboomsrivier Winery is changed to a private company. Members are now shareholders in the cellar.

2011

Our flagship wine, Wagenboom Arborea Red, is launched. The maiden vintage (2010) was a special blend of Shiraz, Pinotage and Cabernet Sauvignon. Ever since the best oak matured blend of each year is bottled under the exclusive Wagenboom Arborea Red label.

2012

Wine storage capacity is expanded to 4,124 million litres.

2014

Waboomsrivier Winery continues their technology driven journey by installing two giant CF 7000 decanters in the cellar – the first of its kind in South Africa. It processes up to 18 tons of grapes per hour and increases the amount of A-grade juice per ton significantly.

2019

The winery's 70th birthday is celebrated in style at Bergland Function Venue. The cellar currently has 15 shareholders and takes in about 18 000 tons of grapes from seventeen farms. The main varieties are Chenin blanc, Pinotage and Colombar.