Experience & Passion
PRODUCTION
Experience and passion
---
Our wines are as much a product of our people as our fine terroir. Our wine making team consists of experienced, knowledgeable individuals whose dedication and passion for quality winemaking is second to none.
Our team from left to right: Charl Myburgh (senior winemaker), Lara Prins (assistant winemaker), Bennie Wannenburg (manager).
---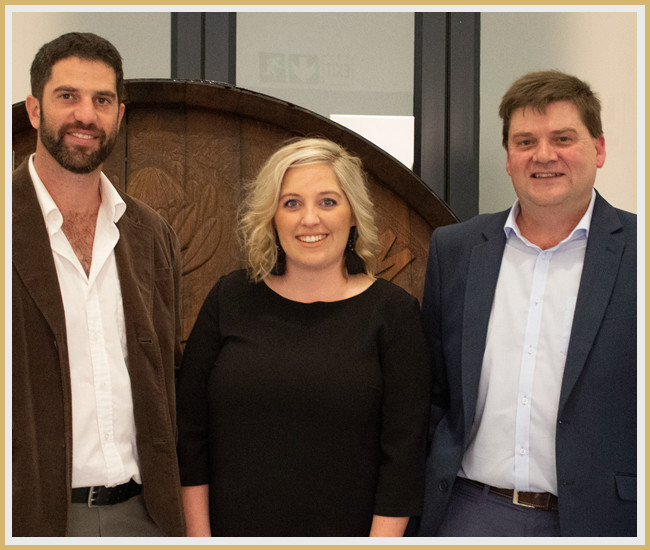 Bennie Wannenburg
Cellar Master/Cellar Manager
Although Bennie grew up in the Free State, he was introduced to the world of wine by a close friend, also an experienced winemaker. After completing his viticulture studies at Elsenburg Agricultural Institute, he worked at Simonsvlei Wines in Paarl, Citrusdal Cellars and the erstwhile Wamakersvallei Wine Cellar in Wellington. His time in Wellington was especially fruitful, reaping in awards at both local and international wine shows. He joined Waboomsrivier Winery in 2005, and to this day remains excited about the diverse terroir of the region. "It gives us the opportunity to experiment with a variety of wine styles," he says. Bennie particularly delights in working with Pinotage and Chenin blanc, two of South Africa's most celebrated varieties. Bennie is passionate about trees and gardening. He is also quite the handy man who happily idles away the time in his workshop at home. When he is not in the cellar, you'll find him in the great outdoors. He is a keen hunter who regularly visits his beloved Free State, where he owns a small sheep farm.
Charl Myburgh
Senior Winemaker
For Charl it all started while visiting his family's farms as a young child. "I loved farm life and knew I wanted to work in agriculture. I was first drawn to winemaking at university." Hailing from Brackenfell, he obtained his BSc Agric Oenology (Specialized) degree at the University of Stellenbosch in 2006. Previous work experience includes winemaking at Perdeberg Winery, uniWines and Nuy Winery. He is no stranger to the winner's circle, being part of the team at uniWines who was awarded the Genl. Smuts-trophy at the SA Young Wine Show in 2012 – a career highlight for this red wine enthusiast. Charl became part of the Waboomsrivier Winery team in 2016. He is the father of two with an interest in woodwork and photography.
Lara Prins
Assistant Winemaker
Growing up on a wine farm, Lara always knew the cellar was her calling. After studying Viticulture and Oenology at CPUT Wellington and obtaining her Diploma in Cellar Technology from Elsenburg Agricultural Institute, this Chenin blanc aficionado completed two harvests at Wellington Wines. International experience beckoned as she spread her wings to Mas de Martin in the South of France, close to Montpellier. Before joining Waboomsrivier Winery in 2016, she worked at Tulbagh Winery as assistant winemaker. Lara, who is born and bred in the Breedekloof, remains in awe of the impressive mountains and breathtaking views of the valley. She enjoys cooking and spending time with friends and family.
Board of Directors
---
Our directors from left to right: C G Zeeman, J A N Pieterse (chairman), F D Zeeman, A J van der Merwe, P J Viljoen (vice chairman) J V du Toit, Bennie Wannenburg (manager).
---
Our loyal team of cellar workers is an integral part of the sustained success of Waboomsrivier Winery. Some of them have worked for the winery for over 30 years. We value our relationships and believe people are our most important asset, thus continue to invest in their development.